What is FFP2 Mask?
FFP comes from the English term "Filtering Face Piece". It is a European standard for mask efficiency, has three filtration classes: FFP1, FFP2 and FFP3. FFP2 is the middle grade. FFP2 masks need to reach at least 94% aerosol filtration under the condition of 95L/min. Its protective function is standardized in Europe according to the EN149:2001+A1:2009 standard. FFP2 protective face masks offer protection against solid and liquid substances harmful to health, dust, smoke and aerosols, e.g. viruses.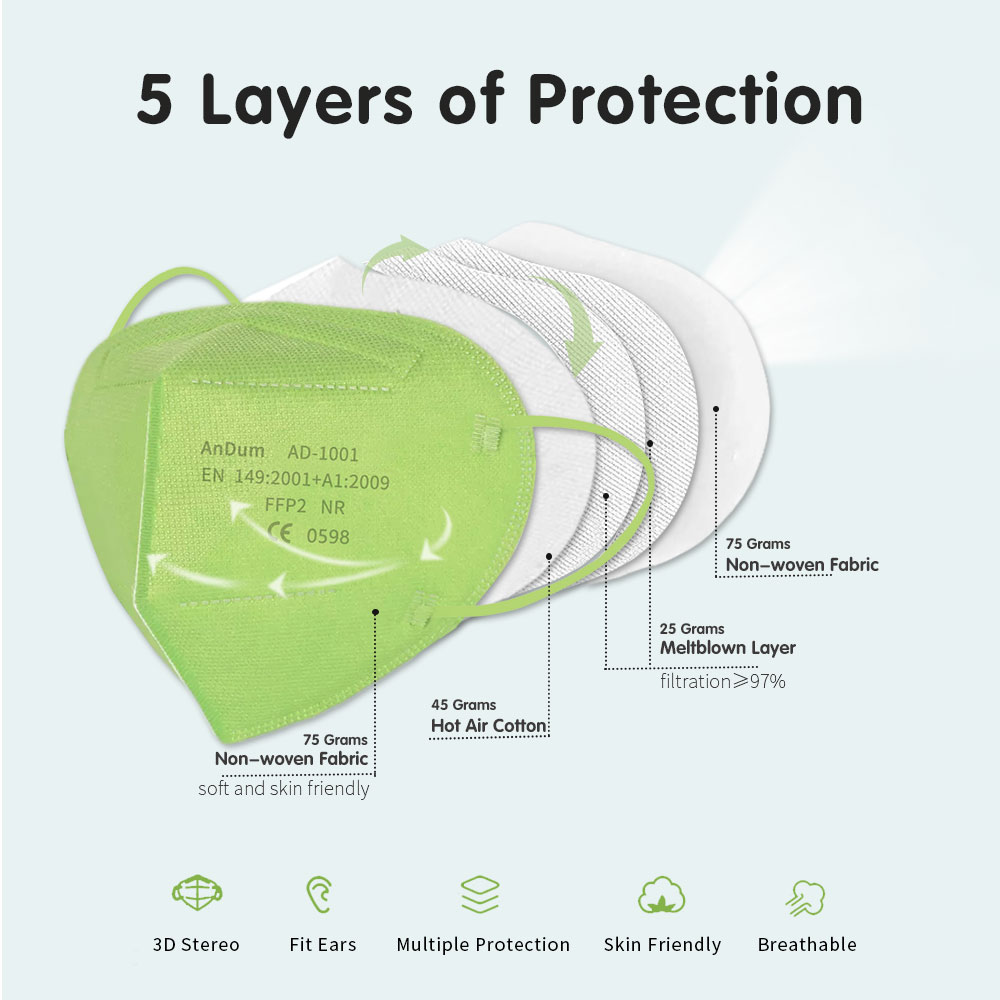 Features of mascherine ffp2 colorate
3D lightweight ffp2 mascherine colorate provides you with sufficient breathing space. The soft and elastic ear loop help to eliminate the pressure on the ears. Masks with adjustable nose clip design can perfectly fit your face, prevent glasses fogging and avoid destroying makeup. Andum FFP2 face masks offers 5 layers protection, which can block more than 94% particles.
● First layer: 75 Grams Non-woven Fabric
● Second layer: 45 Grams Hot Air Cotton
● Third layer: 25 Grams Melt blown Fabric
● Fourth layer: 25 Grams Melt blown Fabric
● Fifth layer: 75 Grams Non-woven Fabric
Application of ffp2 mascherine colorate
Keep mouth, nose and chin covered and protected when go to crowded public places and enclosed public spaces. These FFP2 protective masks are good for transport drivers, taxi drivers, public service personnel, armed police, traffic police, security personnel, media reporters, couriers, etc because they have daily contacts with large amount of people.
Specification of colorata ffp2 masks
Model

AD-1001

Size

10.8 cm × 15.0 cm (±5%)

Ear Rope Length

20.5 cm (±5%)

Gram Weight

5.5 g (±5%)

Color Choices

OEM colored

Type

Folded Design

Nose Clip

PE White Plastic Embedded

Band Style

Earloop

PFE

≥94% (Non-oily and oily particles)

Filter Class

FFP2 NR

Standard

EN149:2001+A1:2009

Certificate

SGS (CE 0598), Module B, Module D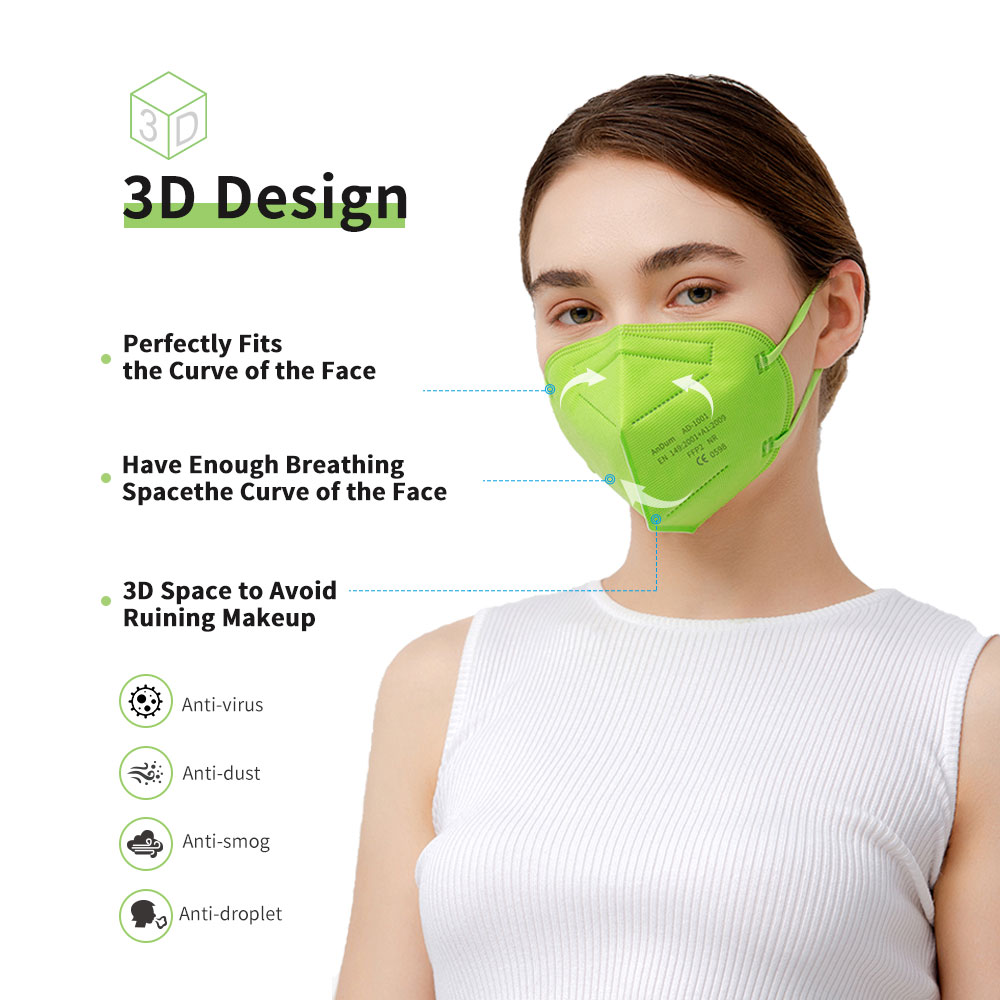 Advantages of AD-1001 colorate ffp2
*Lightweight and Comfortable
*3D Shape, Fit to Face

*Excellent Breathability

*Excellent Filtration Efficiency
*Individually Wrappped Package
*Conform to CE 0598 Certification

*Good After Sales Service System
CE 0598 mascherine ffp2 certificate
Andum is the first companies in white list with permissions of face mask exporting in China. We have got Module B (CE 2163) for mascherine ffp2, Module D (CE 0598), besides we have ISO9001 quality certificate and BSIC certificate which is very important for chain supermarket like Muller, ALDI. If you need download certification, please click here. Thus, our FFP2 masks are approved as Personal Protective Equipment (PPE) according to the regulations for sale and distribution in the European Union.
Andum-CE 0598 FFP2 Mascherine Supplier & Manufacturer & Factory
AnDum ffp2 mask supplier cover an area nearly 20,000 sqm, locates in Changzhou City, the east part of China. With 10 years' experience in manufacturing melt-blown fabrics, we have a 10,000 sqm workshops to equip with 20 advanced FFP2/FFP3 leveled melt-blown production lines,12 full auto production lines and 20 half-auto ffp2 printed mask production lines, with a producing capacity up to 300,000 pcs of FFP2/FFP3 per day or 1,000,000 pcs of 3-ply surgical mask. In 2020, we have exported more than 100,000,000 pcs of FFP2/FFP3 masks of different colors to Europe.
All products perform great quality and healthy, and has obtained SGS and TUV testing report. Our FFP2 masks have full CE certification from an approved testing body or a so-called Notified Body with the number CE0598. According to the Executive Order on Medical Devices, it is required that medical face masks are CE marked when they are advertised and sold within the European market. The CE marking is the manufacturer's guarantee that the mask complies with current EU legislation.
Service of China ffp2 mascherine supplier
As a professional China ffp2 face mask factory & supplier, we have 5 big service such as OEM&ODM, R&D team, quality assured, attentive service and reasonable price. Of course, we also have branch company and warehouse in Europe just like all big CE mask factory have. Besides, AnDum brand has enjoyed a good reputation in Europe.