What is Nitrile Examination Gloves?
The Nitrile Examination Gloves is a kind of disposable sanitary protective consumables and widely recommended to be used all around the world. Nitrile Examination Gloves are made of nitrile latex, which is a synthetic latex formed by emulsion polymerization of butadiene and acrylonitrile, as well as mixed up with other processing materials including dispersion, antifoam solution, coagulant and stabilizer etc. Nitrile Gloves has good physicochemical properties, and will not produce side effects like irritation, allergic reactions or other damages to human skin and mucous membrane as gloves are made of made of synthetic nitrile material and do not contain proteins in latex that can easily cause allergic reactions. The Nitrile Examination Gloves is only for single use and belongs to invasive device intended for transient use (less than 60 minutes).
Advantages of Andum Nitrile Exam Gloves
Premium Material: Our gloves are made of 100% premium medical-grade and food-safe nitrile materials. These high-quality nitrile gloves are super-strong, chemical tear, and puncture resistant. They offer incredible stretch and durability, are ambidextrous, latex-free, powder-free, vinyl-free.
Finger Textured & Touch Sensitive: Our nitrile gloves are finger textured have bare hand sensitivity, allowing for detailed work providing a tougher grip on items, for arts & crafts, handiwork, gardening and for use with touch screens.
Utmost Protection: These ambidextrous and disposable exam gloves are non-allergenic and non-irritating. They are tested and approved for protection, and strong enough to protect against liquids and debris.
Multi-Purpose: The multi purpose gloves are great for Daily Care, Routine Examination, Scientific experiments, Food Processing, Daily Cleaning, Household, Home Improvement, Personal Protection, Beauty Salon, Gardening use, Arts, Crafts and more.
Specification of Nitrile Exam Gloves
Material

Nitrile





Size available

XS, S, M, L, XL

Manufacturing Audit Standards

ISO10993

Standards compliance

EN455, EN374

Freedom from holes

1.5AQL

Length

≥240mm

Width

XS

S

M

L

XL

75±5mm

85±5mm

95±5mm

108±5mm

115±5mm

Removable surface powder

0.54mg

Tensile strength

Before aging

After aging

6.1N

6.2N

Package Information

Quantity

100pcs/box, 1000pcs/carton

Color Box Size

23.5×12×6.5cm

Carton Size

34×25×25.5cm

Weight

6.2kgs
Qualified Certification
Gloves must pass EN455 in order to prove that they are an effective barrier against micro-organisms. A statistical sample taken from a batch of gloves is subject to checks for pinholes and leaks by filling with water. Gloves must achieve an acceptable quality level (AQL) of 1.5 or better in order to be used as examination, procedure or surgical gloves.
Our Nitrile gloves also have EN ISO 374-1:2016 certification: Protective gloves against dangerous chemicals and micro-organisms. The test has wide scope of a total of 18 different chemicals before awarding them with a certification of either A, B or C, testing a glove's response to a wide range of chemicals while taking into account permeability, breakthrough time, shrinkage and more.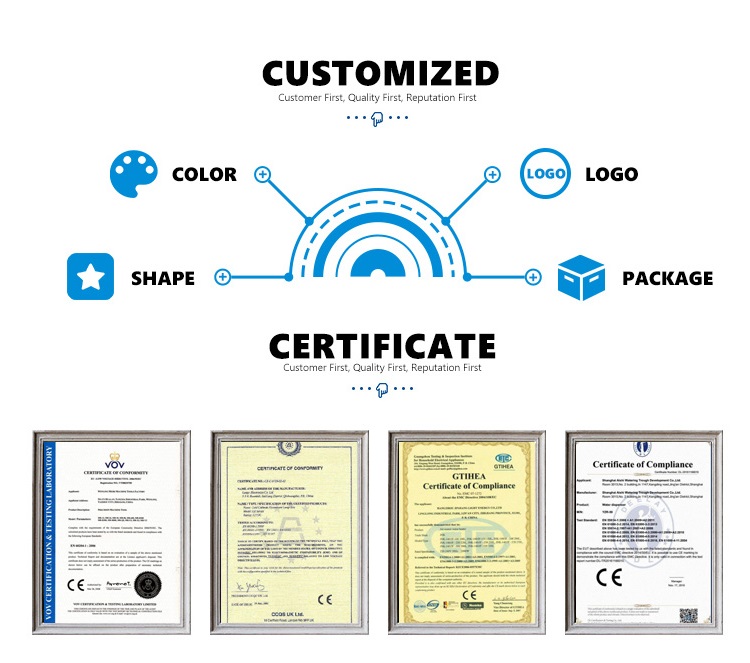 Customized Service
As a professional nitrile exam gloves supplier, andum has experienced designers. According to your requirement, we can customize thickness (0.03mm-1mm) and weight (±0.2g). We can add your company logo, website, phone number, or any of your ideas on the box. We have 5 big service such as OEM&ODM, R&D team, quality assured, attentive service and reasonable price. Please feel to contact us for more details.
Wholesale Nitrile Glove Suppliers - Andum
AnDum Protective Equipment Technology(Changzhou) Co., Ltd, which was a hightech enterprise established in the context of the times of bio-medicine surge, specializes in the research and development, manufacturing, and marketing of protective items like masks, protective suits, goggles, nitrile gloves, etc. It has entered the white list of the China Chamber of Commerce in terms of non-medical use face masks since the first half of 2020.
In early 2021, AnDum invest 50 million dollars to build 15 automatic production lines of nitrile gloves. We mainly produce 9 inch and 12 inch glove with food grade, EN374, EN455, FDA grade. Daliy output can reach 5 million per day. which will rank No.1 in eastern China areas.
We offer nitrile gloves wholesale and at the best prices. Additionally, we have a wide range of bulk nitrile gloves in different sizes, colors, and thicknesses to suit your establishment's needs.