What You Need To Know About KN95 Masks
KN95 is china standard according to GB2626-2019."KN" means used to protect non oily particles (such as virus, bacteria, dust, etc.); "95" means that the filtering efficiency of the mask is ≥ 95% under the detection conditions specified in the standard. Kn95 mask can effectively protect particles suspended in the air.
Before 2020, KN95 non-medical mask is according to china standard GB2626-2006. At July 1st, 2020, China government update the standard of KN 95 to GB2626-2019.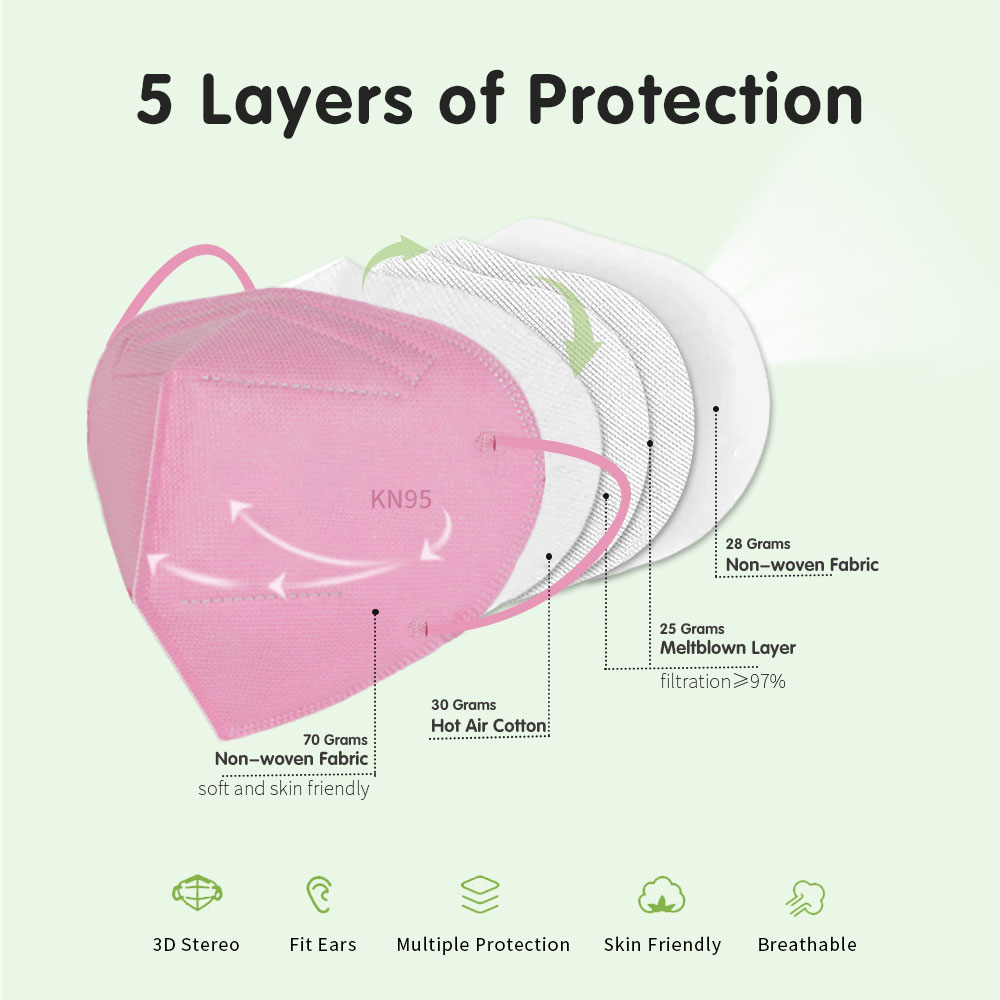 Features of mascherine kn95
1. Kn95 Face Mask is made of 2 layers melt-blown fabric, 2 layers skin-friendly non-woven fabric, and 1 layer soft hot-air cotton to help filter out 95% of particles.
2. 3D shape is designed according to human face shape. Ensuring the tightness, it increases the breathing volume at the same time.
3. With flexible metal nose clip inside, Anudm mascherine kn95 can perfectly fit adult's nose and face.
4. Provides several times the protection of disposable masks, so you can rest assured whether you are at home, office, school, park, playground, shopping mall or other places.
5. These KN95 masks are simple to fold, incorporate, and save space thanks to their lightweight and foldable nature. You can take it with you wherever you want to go.
6. This KN95 mask is NOT an N95 mask. For more information about KN95 masks, please click here.
Specification of mascherina kn95
Dimension

15cm x 11cm (±5%)

Ear rope Length

18.5cm (±5%)

Gram Weight

5.3g (±5%)

Type

Folded design

Nose Clip

PE White Plastic Embedded

Band Style

Earloop

Exhalation Valve

No

PFE

≥95% (Non-oily particles)

Filter Class

KN95

Standard

GB2626-2019
GB2626-2019 mascherine kn95 certificate
Andum is the first companies in white list with permissions of face mask exporting in China. A KN95 mask is stamped with "GB2626-2019". This means the mask was made according to Chinese respirator standards. If you need download certification, please click here.
GB2626-2019 requires that the material in the KN95 respirator must provide a minimum filtration efficiency of at least 95% of particulate matter >0.3 microns and a maximum of 8% and leakage to the inside of the respirator. These types of respirators typically feature a very tight snug fit on the face.
Wholesale KN95 Masks From Andum
Andum is approved kn95 masks manufacturers in china. We have different color of KN95 masks like pink kn95 mask, purple kn95 mask, grey KN95 mask, black KN95, and custom kn95 mask. We can do the color as you required and we can supply the certificate according to GB2626-2019.
At the same time, our disposable masks are all individually wrapped to ensure that every individual mask is sterile and safe or 10 pcs per bag with boxes. We can supply with our brand or we can make OEM with your brand .
We also have adult size KN95 and small face KN95 for kids. We supply quality KN95 mask. Hope we can find more agent and distributor together with us to develop the business.
Sourcing mascherine kn95 from AnDum
For Wholesaler: As a professional China kn95 face mask factory & supplier, we have different model that can help you meet your customer's different requirement.

For Chain Store: We have BSCI factory audit for supermarket customer. We offer different options of the poly bags, labels for chain store/online shop owners.

For Brand Owner: We can supply with OEM design and OEM package for own brand customer. We carry a complete line of mascherine kn95 in competitive cost.
Customize design for colored kn95 masks
Does your business require you to be out in the world, working with people? If so, create custom branded KN95 face masks with your business logo to spread the word about your work, as well as keep yourself and your clients safe. From salons to photographers, shops to restaurants, branded face masks will level up your brand awareness and keep your services top of mind.
As a professional colored kn95 masks supplier, we have experienced designers. According to your requirement, we can add your company logo, website, phone number, or any of your ideas on the products or on the box. Customize the Andum Mascherine KN95 with the colour of your choice and your logo.
Please feel to contact us for more details.
Mascherine KN95 Supplier & Manufacturer & Factory
AnDum Protective Equipment Technology Co., Ltd. is a professional team composed of personal protective equipment design, manufacturing and marketing.
As one of the leading FFP2 mask, FFP3 respirator, Medical TYPE IIR, Nitirle gloves and mascherine KN95 supplier, we have our own melt-blown production lines and we can supply with 1000000pcs / day for production. We have BSCI, ISO9001, CE, EUA certificate and so on .
As a professional China mascherine kn95 manufacturer & factory & supplier, we have 5 big service such as OEM&ODM, R&D team, quality assured, attentive service and reasonable price. Of course, we also have branch company and warehouse in Europe just like all big CE mask factory have. AnDum brand enjoys a good reputation in Europe.

How to tell if a kn95 mask is counterfeit
The packaging is questionable: A product from a legitimate company will arrive in a sealed, tamper-evident package that contains the company's information.

The packaging contains misspelled words: Misspelled words and blatant grammatical errors are two ways to identify a counterfeit KN95 mask.

Words like "genuine" or "authentic" appear on the packaging: The CDC states, "If a listing claims to be 'legitimate' and 'genuine,' it likely is not."

The mask is "FDA-approved": The FDA is not responsible for testing masks.

The mask is "NIOSH-approved": NIOSH does not approve KN95 masks. KN95 masks are manufactured in China and imported to the U.S.

There is no expiration date: A KN95 mask does not last forever. All genuine KN95 masks come with an expiration date.

There is no GB number or branding on the mask: A KN95 mask is stamped with "GB2626-2019." This means the mask was made according to Chinese respirator standards. Older masks are stamped with "GB2626-2006." As long as the expiration date is still good, these masks are good to use.
Are the KN95 face masks reusable?
The answer is YES. Unlike disposable respiratory, KN95 masks can be reused. Some researchers have done relevant research on the protective efficiency and wearing time of KN95 protective mask. The results show that after wearing KN95 mask for 2 days, the filtration efficiency remains above 95%. After wearing for 3 days, the filtration efficiency is decreased to 94.7%.
CDC recommends that people should wear KN95 respiratory no more than five times. The frequency should depend on how it's used. In the absence of sufficient supply of masks, KN95 mask can be considered for reuse as long as it is not obviously soiled or damaged (such as creases or tears).
What the differnce between N95 & KN95?
Both N95 and KN95 masks use multiple layers of synthetic material to protect you from outside particles. And, as their names suggest, both must filter out 95 percent of particles that are 0.3 microns in size or larger.
KN95 masks are the Chinese version of N95 masks. "The KN95 is the Chinese regulatory equivalent of the N95 mask," says infectious disease expert Amesh A. Adalja, M.D., a senior scholar at the Johns Hopkins Center for Health Security.
They offer even more protection than surgical and cloth masks, the CDC says. Like N95 masks, they also filter out up to 95% of aerosols.
The main difference between these two masks is that N95s have to meet stricter requirements, including the ability to filter out bacteria and viruses, and be certified by the National Institute for Occupational Safety and Health (NIOSH).
Care and Use:
Keep the face mask clean before use. Do not touch the rear side of the face mask.

Do not wash the face mask with water. Water will destroy the filtering ability and protective nature of the mask.

Do not steam the face mask or put it in the microwave.

Keep the face mask away from vapor, oils, chemicals, paints, liquid, acid, and alkaline objects.

Make sure to discard the face mask when it becomes visibly dirty or breathing resistance increases remarkably.