What is colored kn95 masks?
KN95 is china standard according to GB2626-2019."KN" means used to protect non oily particles (such as virus, bacteria, dust, etc.); "95" means that the filtering efficiency of the mask is ≥ 95% under the detection conditions specified in the standard. Kn95 mask can effectively protect particles suspended in the air.
Before 2020, KN95 non-medical mask is according to china standard GB2626-2006. At July 1st, 2020, China government update the standard of KN 95 to GB2626-2019.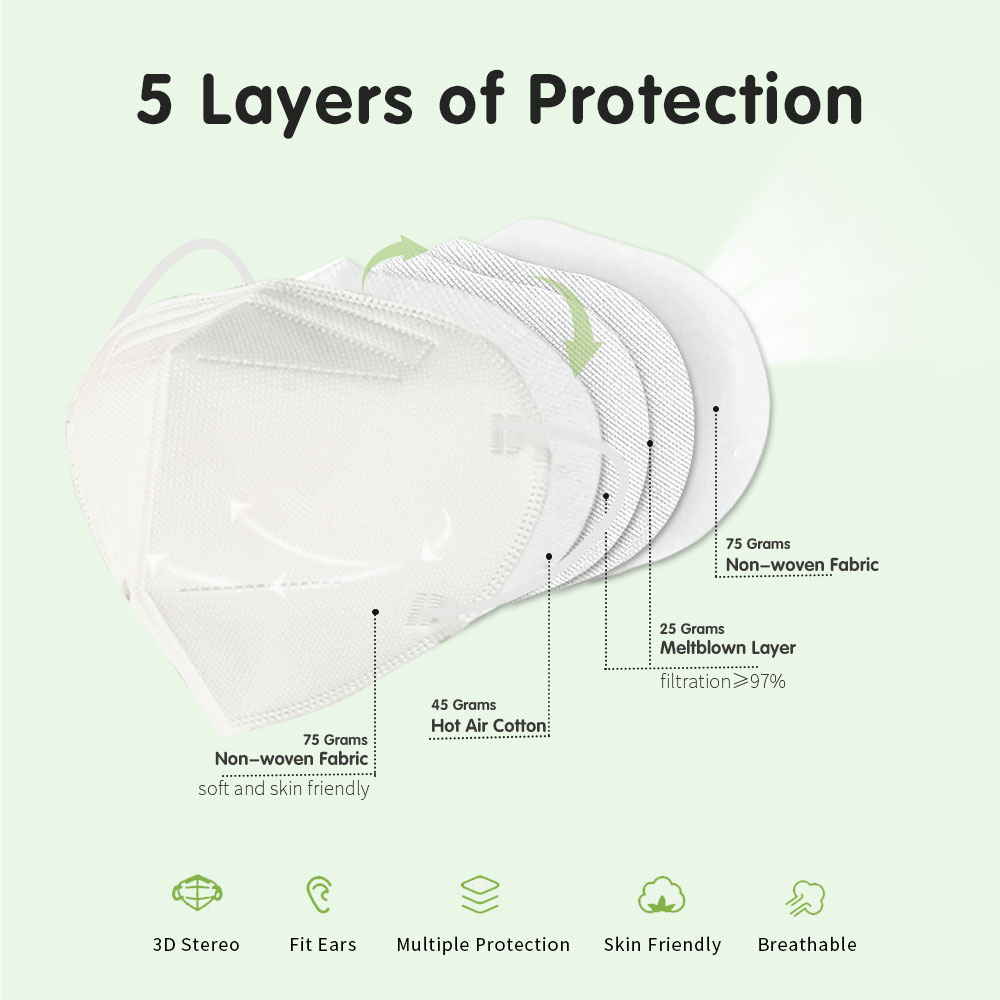 Features of colored kn95 masks

1. The KN95 masks come in multiple colors, which includes kn95 black mask, white kn95 mask, pink kn95 mask, purple kn95 mask, etc.
2. Colored Kn95 Face Mask is made of 2 high-density melt-blown fabric layers, 2 skin-friendly non-woven fabric layers, and 1 soft hot-air cotton layer to help filter out 95% of particles.

3. Theflexible metal nose clip is fixed to the inner of the mask. You never need to worry about the Inserted nose clip falling off. KN95 masks adjustable ear loops can help the mask perfectly attach onto your face.
4. This kn95 protective masks are good for transport drivers, taxi drivers, public service personnel, armed police, traffic police, security personnel, media reporters, couriers, etc.
5. These colored KN95 masks are simple to fold, incorporate, and save space thanks to their lightweight and foldable nature. You can take it with you wherever you want to go.
Specification of colored kn95 masks

Dimension

15cm x 11cm (±5%)

Ear rope Length

18.5cm (±5%)

Gram Weight

5.3g (±5%)

Type

Folded design

Nose Clip

PE White Plastic Embedded

Band Style

Earloop

Exhalation Valve

No

PFE

≥95% (Non-oily particles)

Filter Class

KN95

Standard

GB2626-2019
Category of colored mascherine kn95
●Black Mascherine KN95 ● Green KN95 Respirator
● Yellow KN95 Mask ● Red KN95 Mask
● Blue KN95 Face Masks ● Pink Mascherine KN95
● Purple KN95 Mask ● White Mascherine KN95
Wholesale colored kn95 masks from Andum
AnDum colored kn95 mask supplier cover an area nearly 20,000 sqm, locates in Changzhou City, the east part of China. With 10 years' experience in manufacturing melt-blown fabrics, we have a 10,000 sqm workshops to equip with 20 advanced melt-blown production lines, 12 full auto production lines and 20 half-auto mask production lines.
Easily find and buy wholesale kn95 respirator masks for sale from top suppliers on Andum today. Save more money buying mascherine kn95 here for your small businesses, hospitals, surgical centers, doctor offices, dental clinics, medical labs, clinical lands, college labs, and more. If you need kn95 masks, we have a large supply of all types of kn95 masks in stock to ship regardless of your unique needs.

Get free sample on all kn95 respirator mask supply orders - no matter what size.

Supplies are in stock; no surprises after you order.

We offer the lowest prices online for kn95 masks and much more.

Save even more on your supply orders with our subscription services.

Good after sales service system.
Sourcing colored kn95 masks from AnDum
For Wholesaler: As a professional China colored kn95 face mask factory & supplier, we have different model that can help you meet your customer's different requirement.

For Chain Store: We have BSCI factory audit for supermarket customer. We offer different options of the poly bags, labels for chain store/online shop owners.

For Brand Owner: We can supply with OEM design and OEM package for own brand customer. We carry a complete line of mascherine kn95 in competitive cost.

Customize design for colored kn95 masks
Does your business require you to be out in the world, working with people? If so, create custom branded KN95 face masks with your business logo to spread the word about your work, as well as keep yourself and your clients safe. From salons to photographers, shops to restaurants, branded face masks will level up your brand awareness and keep your services top of mind.
As a professional colored kn95 masks supplier, we have experienced designers. According to your requirement, we can add your company logo, website, phone number, or any of your ideas on the products or on the box. Customize the Andum Mascherine FFP2 with the colour of your choice and your logo.
Please feel to contact us for more details.
GB2626-2019 mascherine kn95 certificate
Andum is the first companies in white list with permissions of face mask exporting in China. A KN95 mask is stamped with "GB2626-2019". This means the mask was made according to Chinese respirator standards. If you need download certification, please click here.
GB2626-2019 requires that the material in the KN95 respirator must provide a minimum filtration efficiency of at least 95% of particulate matter >0.3 microns and a maximum of 8% and leakage to the inside of the respirator. These types of respirators typically feature a very tight snug fit on the face.
Colored kn95 masks Supplier & Manufacturer & Factory

AnDum Protective Equipment Technology Co., Ltd. is a professional team composed of personal protective equipment design, manufacturing and marketing.
As one of the leading FFP2 mask, FFP3 respirator, Medical TYPE IIR, Nitirle gloves and mascherine KN95 supplier, we have our own melt-blown production lines and we can supply with 1000000pcs / day for production. We have BSCI, ISO9001, CE, EUA certificate and so on .
As a professional China colored kn95 masks manufacturer & factory & supplier, we have 5 big service such as OEM&ODM, R&D team, quality assured, attentive service and reasonable price. Of course, we also have branch company and warehouse in Europe just like all big CE mask factory have. AnDum brand enjoys a good reputation in Europe.