Why AnDum ffp2 mask factory designs color facemask?
Are you tired of white ffp2 masks? Do you feel it monotonous when you go out? If you have these thoughts, you should choose colored ffp2 mask. Wear AnDum AD-1001 face mask, you must stand out and everyone will envy you.
AnDum color ffp2 mask is manufactured by a China ffp2 face mask factory. This China ffp2 mask factory designs 17 plain colors for AD-1001 masks such as black, orange, pink, red, green and so on, each color is awarded with CE2163 certification. And the black color ffp2 mask has been selected as the team mask for Dortmund Club of Bundesliga.
What is ffp2 mask?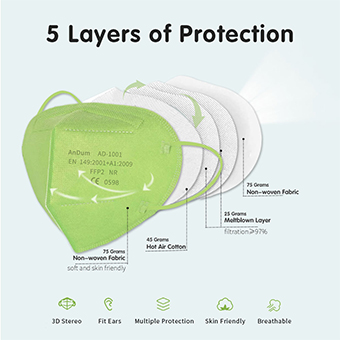 FFP2 masks are a "Filtering Face Mask" which complys to EN149 standard. FFP2 masks need to reach at least 94% aerosol filtration under the condition of 95L/min. While the shape of ffp2 masks is similar with KN95 or N95 masks, FFP2 masks have distinct features and follow a different regulatory standard.
FFP2 masks are considered Personal Protective Equipment (PPE), as ffp2 masks offer protection in various areas such as hotel, restaurant, market, train, factory, laboratory, to help person who wear AnDum AD-1001 color ffp2 mask against particulates and viruses like Covid-19.
AnDum AD-1001 color ffp2 masks have 5 layer fabrics, 2 layers non-woven fabric, 2 layers meltblown fabric and 1 layer hot air cotton. The meltblown layer ensures that color ffp2 masks filter out more than 94% of particulates and has a flame retardant effect. You never feel pinching of your ears even if you wear AD-1001 color ffp2 masks for 8 hours because we use high elastic earloop.
Specifications of colored ffp2 face masks
Model

AD-1001

Size

15 cm × 11 cm (±5%)

Ear Rope Length

18.5 cm (±5%)

Gram Weight

5.3 g (±5%)

Color Choices

17 colors

Type

Folded Design

Nose Clip

PE White Plastic Embedded

Band Style

Earloop

PFE

≥94% (Non-oily and oily particles)

Filter Class

FFP2 NR

Standard

EN149:2001+A1:2009

Certificate

SGS (CE 0598), Module B, Module D